SUPPORTERS


Balkans.com Business News is a Balkan based online business news source providing daily news & week in review newsletter, market research, financial reports, and database of companies, from Albania, Bosnia and Herzegovina, Bulgaria, Croatia, Cyprus, FYR Macedonia, Greece, Montenegro, Romania, Serbia, Slovenia and Turkey. The - business only - website in English, Serbian and Greek also features many specialized sections such as Real Estate, Markets, Franchising as well as interviews with business leaders throughout the Balkans. Balkans.com Business News is the primary resource for professionals, investors interested in expanding or developing business in the region, entrepreneurs and key decision makers around the world seeking business information from the Balkans.



A Dow Jones & Co. Publication
Barron's (www.barrons.com) is America's premier financial magazine, renowned for its market-moving stories. Published by Dow Jones & Company since 1921, it reaches an audience of top corporate executives, institutional investors, individual investors and financial professionals. With new content available every week in print and every business day online, Barron's provides readers with a comprehensive review of the market's recent activity, coupled with in-depth, sophisticated reports on what's likely to happen in the market in the days and weeks to come. Barron's is the source these powerful people rely on for market information, ideas and insights they can use.
Barron's publishes in-depth coverage and analysis on companies, sectors, and the financial markets in the U.S. and around the world. It provides comprehensive statistics on the preceding week's trading and financial activities, and its feature stories and columns look ahead at what's likely to happen to companies and to the market in the weeks to come. It is edited for people who are responsible for managing money-either for themselves, for their firms or for others- including CEOs and CFOs; bankers, securities analysts and financial advisors, powerful institutional investors and affluent individual investors.
Contact Betsy Matsunaga at email: betsy.matsunaga@barrons.com

Publication URL http://www.barrons.com
Media Data URL http://www.barronsmag.com



Now entering its fifth decade, Institutional Investor has consistently distinguished itself among the world's foremost financial publications with ground-breaking journalism and incisive writing that provides "must read" intelligence for its global audience. This award-winning magazine is essential reading for the world's leading financiers, corporate executives and government officials, who rely on the breadth and depth of coverage that have made Institutional Investor such a premier publication. Throughout the year, Institutional Investor offers a host of proprietary rankings and ratings that serve as respected industry benchmarks, informing and influencing its carefully targeted circulation base throughout the year. These signature rankings and ratings include:
Most Shareholder-friendly European companies
Best European CEO
Best European CFO
Best European equity analysts
Best European fixed income analysts
Country Credit Ratings
Money Manager Rankings
Institutional Investor's unique ability to uncover breaking stories and tell the 'inside story' set it apart from the competition and is why it remains such an important source of information for our very discerning audience.

With a global circulation of 115,000, Institutional Investor's readers are the elite of the financial markets the senior managers of institutional investors, corporations, banks as well as government ministries and agencies.

Christine Cavolina is the Global Publisher of Institutional Investor and is based in U.S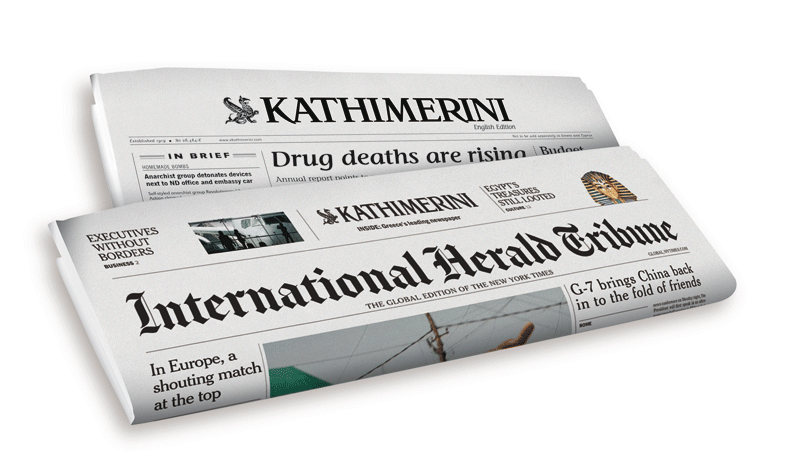 Ethnarhou Makariou Ave. & 2, Falireos Str., 185 47 Neo Faliro
Tel: (+30) 210 480 8224, Fax: (+30) 210 480 8269
e-mail: ihtk@ekathimerini.com, www.ekathimerini.com, www.athensplus.gr
The International Herald Tribune (IHT) is the premier international newspaper for opinion leaders and decision-makers around the globe. It is printed at 37 sites throughout the world and is for sale in more than 180 countries. Based in Paris since 1887, the IHT is part of The New York Times Company.
A Publishing Partnership was launched in 1998 between the IHT and Kathimerini S.A. (IHT-K). Kathimerini English Edition is a daily newspaper published in Athens and is distributed with the IHT in Greece and Cyprus. It provides readers with a summary of the main political, business and cultural news in Greece and Southeastern Europe.
The IHT-K also publishes a weekly newspaper, Athens Plus, which was recently awarded Europe's Best Designed Weekly Newspaper. Its aim is to inform, entertain and help readers make the most of the many opportunities that Greece has to offer. Athens Plus is available at most kiosks every Friday and is also inserted in IHT–K subscriber copies.


H ηλεκτρονική διεύθυνση για μία παρεμβατική, ενημερωτική και αποκαλυπτική πρόταση - πρόκληση στο χώρο του Διαδικτύου.

Οι Αγορές και τα Χρηματιστήρια, οι Επιχειρηματικές κινήσεις, οι Οικονομικές και Πολιτικές εξελίξεις στην Ελλάδα και τον κόσμο, ο Αθλητισμός, η Επένδυση στην Τέχνη, τα Media, το αυτοκίνητο και το Lifestyle, αποτελούν τις βασικές στοχεύσεις του axiaplus.gr.

Το παρασκήνιο όλων των παραπάνω και οι κινήσεις των ανθρώπων που το διαμορφώνουν έχουν κορυφαία θέση στο axiaplus.gr.

Μία μεγάλη ομάδα έμπειρων ειδικών συνεργατών βρίσκεται καθημερινά κοντά, αλλά και μπροστά από τις εξελίξεις για την έγκυρη και έγκαιρη ενημέρωση.
Το περιεχόμενο του axiaplus.gr, πέρα από την πλήρη παρουσίαση της ελληνικής και διεθνούς επικαιρότητας, περιλαμβάνει επίσης τέσσερις καθημερινές αποκαλυπτικές ενότητες με στήλες παρασκηνίου, ίντριγκας και ιδιόμορφου σχολιασμού προσώπων και καταστάσεων της πολιτικής, της οικονομίας και του Χρηματιστηρίου.
Το κοινό μας κυρίως είναι:
Άντρες (70%), ηλικίας 25+, μεσο-ανώτερης κοινωνικοοικονομικής τάξης
Ενημερώνονται καθημερινά και επί 24ώρου βάσεως για το χρηματιστήριο («τζογαδόροι της Σοφοκλέους»)
Είναι εκείνοι που αναζητούν όμως και μια σφαιρική ενημέρωση για την οικονομία, και την πολιτική
Αναζητούν την πληροφόρηση από μία ιστοσελίδα, που δε διαπραγματεύεται την αλήθεια των γεγονότων
ΠΟΣΟΤΙΚΑ ΚΑΙ ΠΟΙΟΤΙΚΑ ΣΤΟΙΧΕΙΑ ΤΟΥ AXIAPLUS.GR
Από 20.11.2009 το axiaplus.gr ανανεώθηκε πάντα με τους δείκτες των Χρηματιστηρίων real time.
Τα στοιχεία επισκεψιμότητας όπως προκύπτουν από το Google analytics για τον Απρίλιο 2010 είναι:

Επιπλέον υπάρχει loyalty 80% και τέσσερις στήλες συγκεντρώνουν καθημερινά έκαστη σχεδόν το 80% της επισκεψιμότητας.
Αξίζει να σημειωθεί ότι μέχρι τώρα μας έχουν ήδη εμπιστευτεί για την επικοινωνία τους μεγάλες εταιρίες καθώς και τραπεζικοί οργανισμοί.


Η ΑΞΙΑ in brief…
Εβδομαδιαία οικονομική και πολιτική εφημερίδα που κυκλοφορεί από το 1998, κάθε Σάββατο
Με 51.000 πιστούς αναγνώστες, κάθε εβδομάδα, παρόλο που κυκλοφορεί χωρίς προσφορές
Το 78% των αναγνωστών είναι άνδρες, ηλικίας από 35 έως 54 ετών
Το 59% έχει ανώτερη/ανώτατη μόρφωση και το 73% ανήκει στην ανώτερη/ανώτατη Κ/Ο ομάδα
Πηγή :Focus-Bari, Έρευνα Αναγνωσιμότητας, Περίοδος: Σεπτέμβριος '09 - Μάρτιος '10
INFOTAINMENT A.E
•Γ' ΣΕΠΤΕΜΒΡΙΟΥ 144 • 11251• ΑΘΗΝΑ
• Τ: 210 8254811 – 14 • F: 210 8814229
• URL:axiaplus.gr • e-mail :axia100@vivodinet.gr


Abridged sbc CV
Sbc is the only business and finance television channel in Greece.
Sbc broadcasts live, local and international information, 16 to 18 hours/day.
Our primary goal is to provide daily up to date news on financial developments and aspects. Hence, we offer our viewers Real Time swifts of the Athens Stock Exchange during its working hours, (10:30 - 17:30), while a team of journalists, specialized in economy and politics, report and analyze the Greek and international events of the day. The programme is supplemented by live shows, hosting interviews of government, politics and business agents.
Sbc is, also, the first Web TV in Greece. www.sbctv.gr broadcasts, live through the internet, adding to our viewers those who cannot watch television due to office policy or reception difficulties.
Sbc's collaborates with akin, international organizations. Our greatest one is that with Bloomberg. We exclusively deliver in Greece, live, part of its programme. Bloomberg organization obtains the greatest international network on financial reporting and it is considered the most accurate and important link amongst international markets. We, also, provide Bloomberg with material on Greek Economy.
Another collaboration of sbc is with Russia Today, the first English speaking channel of Russia. Through this collaboration we provide information on economy and other related developments, through the eyes and feelings of the local scene.
Αγίας Λαύρας 2 και Σαρανταπόρου, 14121 Ηράκλειο Αττικής
Τηλ.:211-2700700 / Fax: 211-2700740 / www.sbctv.gr


In 1993, the concept for the creation of a company which would take on the task of selective, valid and timely update through various printed materials, such as newspapers and magazines, was accomplished in Thessaloniki by the "ENIMEROSI" company. The use of new technologies also helped in this direction. "ENIMEROSI" company deals with the research, gathering and dispatch of information through all the means of information.
Our company searches and keeps up with newspapers, magazines, the Internet, radio and TV stations, even the International Press so that several requirements are fulfilled:
Complete allocation of the information during the early morning hours, careful research in more than 800 greek publications, exquisite audiovisual output, primary focus on the subscriber's wishes and requirements and available "after sales service" at any time.
"ENIMEROSI" has at its disposal the greatest variety of printed materials, as far as the content is concerned and the place of origin. The numerous, experienced staff reads seven days per week all the daily, weekly and monthly publications of any kind of context.
PRINTED INDEX
As for the printed index, the extracts are printed in A4 and A3 dimensions and the sending of the original articles is also possible, if agreed. This can be accomplished by our own courier daily, through the greek post office or via fax.
ELECTRONIC, DIGITAL INDEX
Our electronic node is www.apo.gr. Using your own password you can enter your electronic folder which is updated early in the morning with the extracts of your interest. The file remains in our node and your computer is not further loaded. The use of the program is simplified and easy. Choosing the index from the internet has its own advantages. For example, daily access to the most significant news of all the newspapers in Athens and Thessaloniki. Simultaneous access with the same password for more than one users is also feasible.
THROUGH E-MAIL
Additionally, the daily dispatch can be done through e-mail in the given addresses of the subscriber.
TV AND RADIO INDEX
Subscribers can also be updated for what and how something was referred in television and radio
stations. This platform is internet based and retains its information for 30 days.
INTERNET INDEX
According to your requirements, you can be informed by various networks on the internet.
TEST OUR SERVICES FREE!
The company takes into consideration the need for evaluation of an offering service in advance and therefore we offer FREE testing subscribing for a week to anyone who is interested.
...AND THE NEXT DAY
It is our obligation to be in the assistance of the client- subscriber at any time for anything that may come up. The confirmed confidence built between our company and our subscribers is our best promoting tract.
'' ΕΝIMEROSI '' NEWSPAPER&MAGAZINE'S PRESSCLIPPINGS
VAKHOU 30 – THESSALONIKI 546 29 ΤEL.- FAX 2310- 538.633 , 2310-539.371
www.apo.gr - e-mail: info@apo.gr


The Financial Mirror is Cyprus' leading business newspaper, published weekly in English since 1993.

As the authoritative source for economic, financial, industrial and investment news in Cyprus and about Cyprus, the Financial Mirror enjoys a high circulation with the core of our readers being business people, managers and professionals, and a significant proportion of our subscriptions delivered to businesses and corporations, allowing the Financial Mirror to reach a high quality and targeted audience.

The newspaper is also distributed on board airlines, executive lounges in airports and hotels, and to overseas subscribers.

The Financial Mirror is also the first media group to launch a video-on-demand service allowing visitors to our regularly updated web-site (www.financialmirror.com) access to news and analysis report prepared in-house and submitted by contributors on a daily basis in Greek and English.
We also publish a daily electronic newspaper in Greek Xpress and a weekly technology and IT magazine, Tech 7 in addition to specialised supplements and the management of web sites such as Cyprus Gourmet.


For information contact us on +357 2267 8666, by fax +357 2267 8664, or by e-mail: info@financialmirror.com